About Us
The Agricultural Societies Council of NSW Ltd (ASC)
The Agricultural Societies Council of NSW, now in its 87th year, has been in operation since 1929 as the parent body of 195 Agricultural Show Societies in the State of New South Wales.
The primary role of the Agricultural Societies Council of NSW is to provide support, service, development and ideas for growth to our members. The Board of the Agricultural Societies
Council is made up of Directors from across the state of NSW.
Our goals are many, however they include
. To promote and protect the pastoral, agricultural horticultural and industrial resources of Australia through promotion and protection of Pastoral, Agricultural and Horticultural Societies in NSW;
. Education of young people through the livestock judging competitions held throughout the State, culminating in State Finals at the Sydney Royal each Easter;
. Promote the involvement of youth in shows by holding competitions for young people and encouraging them to participate in Show Societies and Agricultural Youth Groups.
SAVE THE DATE: Zone Showgirl Seminar
Zone Showgirl Seminar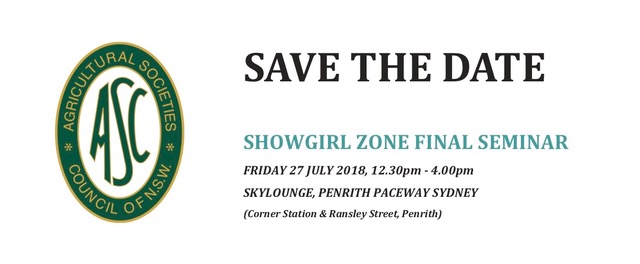 To book please CLICK HERE!
SAVE THE DATE: State Seminar 2018
State Seminar 28-29 July 2018 at Penrith Showground
The ASC will be holding their triennial State Seminar at Penrith Showgrounds on the 28 - 29 July 2018.
The draft progam is available on the website or you can visit www.agshowsnsw.org.au/2018seminar
This is a fantastic opportunity to network with many many agricultural shows, listen to talks on important information relating to your show & see fresh new entertainment.
Keep the weekend free!
Big Bush BBQ - Sydney Royal 2018
Show Societies travelled from near and far for the most Australian of all fundraisers, the sausage sizzle. From Ardlethan to Walcha, the Big Bush BBQ was an old-fashioned, country-style lunch option for visitors at the Sydney Royal Easter Show. We were able to raise $41,838 and all profits made at the BBQ went straight back to the hosting Society for that day. For those who stopped by the BBQ and couldn't resist the aroma, thank you on behalf of the following NSW Show Societies: Ardlethan, Bellingen, Coffs Harbour, Cootamundra, Dorrigo, Dubbo, Gresford, Gulargambone, Milton, Newcastle, Nowra, Picton, Queanbeyan, St Ives, Taree, Wagga Wagga and Walcha.
The RAS of NSW has a desire to foster relationships and increase involvement in communities and this year the staff loved the opportunity to engage and build stronger relationships with members from each of the participating regional Shows.
A huge thank you to our sponsors, Woolworths and Coca-Cola Amatil for donating the product for the BBQ.
Once again, thank you to all of the Shows that took up the opportunity to participate in this initiative and we are already busy planning how we can make it bigger and better next year.